Liabilities for Industrial Workplace Accidents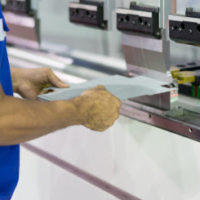 Although the United States has transitioned to a primarily white-collar service-based economy, there are still many occupations that manufacture goods for everyday use. In fact, contrary to conventional wisdom, the United States still outpaces the world when it comes to manufacturing output. Some of this manufacturing takes place at industrial workplaces, where safety is always a concern. Large machines, which are able to quickly and repeatedly stamp, press, and form various objects, have many moving parts which, if safety protocols are not followed, can have tragic consequences for the individuals that operate them. And, in some cases, when these tragic consequences strike, retaining the services of a personal injury attorney can help alleviate the financial hit that an individual may encounter. Recently, and unfortunately, a Massachusetts man was killed in an industrial accident in Sharon when he got trapped in a metal cutting machine. A discussion of options available to individuals (or families) in these unfortunate situations will follow below.
Workers' Compensation Insurance
In Massachusetts, employers are required by law to purchase and carry workers' compensation insurance, covering their employees for injuries incurred while the employee is at the workplace or otherwise acting in furtherance of his/her employment (i.e., "on the clock"). While it is easy to discern that an employee is "on the clock" while at the place of employment, it becomes more complex to determine whether an employee is also "on the clock" when away from the place of employment, such as, for example, if he/she is travelling or if the job requires a remote work location. However, if a determination has been made that an employee is injured while acting in furtherance of his/her employment, the Massachusetts Department of Industrial Accidents, which administers and enforces the requirements of the Commonwealth's workers' compensation laws, helps to streamline the process of compensating workers for injuries incurred while in furtherance of their employment. This process avoids the need for an injured worker to file litigation.
What if an Employer Does Not Carry Workers' Compensation Insurance?
Although, as mentioned above, employers are required by law to carry workers' compensation insurance, not every employer does. While the reasons for this vary, many employers may feel that it is a business risk worth taking. In any event, although the employer is, by this action, in violation of the law, not having workers' compensation insurance does not necessarily mean that an injured employee cannot recover compensation for workplace-related accidents through the workers' compensation program. The experience of a personal injury attorney can serve to ensure that such an option works out for the employee's benefit.
Third-Party Lawsuit
In other cases, third-parties may be liable for an employee's injuries. In this instance, a third-party is a party who is not the employee's employer nor a co-worker. If a third-party is responsible for the accident, the employee may seek through a personal injury lawsuit against that third-party. It is important to know that, if an employee does take advantage of this option, the employee's workers' compensation insurance company and/or his/her health insurance company may file a lien on any recovery, so as to prevent the employee from recovering for the same injury from multiple sources. Nevertheless, these actions may still be advantageous, as it may allow the employee to recover compensation for losses not included in his/her workers' compensation benefits, such as damages for pain and suffering, full lost wages, loss of consortium, and, sometimes punitive damages.
Seek Legal Advice
If you, or a loved one, were injured in an industrial accident, speak to an experienced criminal defense attorney as soon as possible so that you can understand all your options concerning compensation for your injuries. You should not have to face the financial burden alone, especially if another person or entity is at fault. The attorneys at Leontire & Associates, P.C. have the experience necessary to analyze your specific situation and work with you to help you obtain the financial remuneration you deserve. Contact our Boston office today.
Resources:
boston.cbslocal.com/2018/07/12/sharon-inmetal-industrial-accident/
malegislature.gov/Laws/GeneralLaws/PartI/TitleXXI/Chapter152/Section25A