Bond Trader Found Not Guilty in Key Securities Fraud Case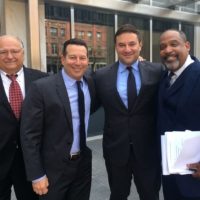 On May 3rd, 2018, former Cantor Fitzgerald bond trader David Demos was found not guilty on charges that he defrauded customers in bond trades. Originally indicted in December of 2016, Mr. Demos was cleared by a jury in Connecticut.
This was an especially notable verdict, as the U.S. government was pursuing fraud charges against Mr. Demos using a rather novel argument. However, as in other similar cases, including the high profile case of former Jefferies bond trader Jesse Litvak, the government has once again failed to prove the charges.
In this article, our experienced Boston white collar crime lawyer offers a brief account of the important facts in the case, explains the reasoning behind the not guilty verdict, as well as the potential long-term implications of the case.
Case Analysis: United States v. Demos   
The Background  
Bond traders are prevented from making material misrepresentations to actual and prospective buyers. However, there is much debate over what constitutes a 'material' misrepresentation. In recent years, the U.S. government has attempted to 'broaden' the definition of material. More specifically, securities industry regulators and government prosecutors are cracking down on certain misstatements made during the negotiation process.
The case against Cantor Fitzgerald bond trader David Demos provides an illustrative example of this type of case. According to prosecutors, Mr. Demos misstated the price at which he acquired a specific bond to a potential buyer. While the buyer thought Mr. Demos was making relatively little profit on their trade (because he thought Mr. Demos acquired the bond at a high price), Mr. Demos actually made considerably more.
The 'Not Guilty' Verdict 
There was little debate in this case regarding whether or not Mr. Demos made misstatements to the buyer. Instead, the legal question examined whether Mr. Demos had an obligation to tell the buyer the truth about the profit he was making on the transaction. To be sure, is misleading a buyer about the past price history of the bond a material misrepresentation for the purposes of U.S. securities law? 
The jury verdict came back in favor of Mr. Demos. While he did engage in 'exaggeration' and 'puffery' during the negotiation process, the jury ruled that his misstatements were not criminally fraudulent. In the view of the jury, the misrepresentations were not material to the investment decisions made by the bond buyers. As such, Mr. Demos was declared not guilty of securities fraud. 
The Implications 
This case is another serious setback for U.S. government securities regulators and prosecutors who have been pursuing aggressive charges against certain bond traders. While their record is mixed, the losses in court may discourage prosecutors from pursuing charges under similar circumstances in the future. Still, this is a developing area of law. Our white collar defense lawyers will continue to closely monitor any and all new developments.
Contact Our Boston White Collar Defense Lawyer Today 
At Leontire & Associates, P.C., our Boston criminal defense lawyer has extensive experience handling complex securities fraud cases. If you or a family member has been charged with a securities violation, you need to seek immediate legal assistance. For a free, fully confidential consultation, please call us today at 617-221-7161. From our office in the heart of Boston, we represent clients throughout Massachusetts.
Resources:
wsj.com/articles/former-jefferies-trader-litvaks-conviction-is-tossed-out-1525376517
courtlistener.com/docket/6084678/united-states-v-demos/