Ex-Cantor Fitzgerald Trader Not Guilty in Bond Fraud Case
A former Cantor Fitzgerald LP managing director was cleared of charges that he defrauded customers by lying about prices of mortgage-backed securities, dealing federal prosecutors another blow in their efforts to tame questionable practices used by bond traders.
David Demos, 36, was found not guilty Thursday of securities fraud by a federal jury in Hartford, Connecticut. Prosecutors claimed Demos lied to his customers about the prices at which his company could buy or sell mortgage bonds, boosting the profit his firm earned on a trade and therefore increasing his own bonus.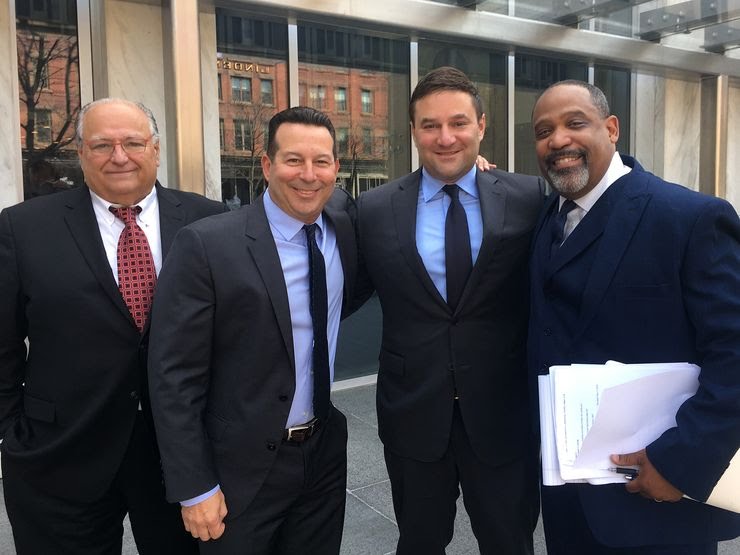 Attorney George Leontire, attorney Jose Baez, David Demos and attorney Ronald Sullivan outside court.
Photographer: Chris Dolmetsch/Bloomberg
Demos jumped upon hearing the last count and embraced his lawyer, prompting shouts of joy and loud sobs from his wife and parents seated behind him. Overcome with emotion, he quickly broke down in tears as his lawyers sought to console him.
"Today's verdict by the jury is a complete vindication of everything I've fought for, my family has fought for and my lawyers have fought for, for the past three years," Demos said outside of court. "Bluffing or lying or puffing about your cost in a negotiation was never a crime, is not a crime and should never be a crime."
The acquittal is a stinging setback to prosecutors, who have suffered a mixed record in the four trials of traders charged in the crackdown. The jury's verdict came on the same day that a federal appeals court reversed the conviction of a former Jefferies Group LLC managing director who is serving prison time for lying to customers about the prices of mortgage-backed bonds. That decision was the second time in 2 1/2 years that the appeals court tossed out the conviction of Jesse Litvak.
Jurors accepted defense arguments that Demos's lies weren't important enough to influence the way his clients' investment decisions.
Click here for a scorecard on how the U.S. has fared in prosecuting bond-fraud
At the trial, prosecutors and the defense both streamlined their cases for the jury, with the government calling a limited number of witnesses and the defense offering none.
Prosecutors questioned traders who did business with him, including Ed Cong, a principal at one of the alleged victims, Marathon Asset Management. He answered questions about trades he made with Demos in 2011 and 2012.
The government said Demos misled Marathon in multiple transactions, including one when Cantor bought a bond from another bank and he lied about the acquisition price, allegedly increasing the amount his firm would make by more than $50,000.
Cong said he was unaware that Demos had deceived him until he met with prosecutors.
"We would have not actively sought out his advice and services on bonds," Cong said. "We probably would have gone with another broker-dealer."
But during cross-examination, Cong acknowledged that his firm's model puts out a profile of a bond's cash flow that is then compared with prices to get a range where the firm would consider investing. While he said the model itself doesn't determine that range, he admitted the firm wouldn't go above a certain level.
Litvak's Conviction Reversed Again by Federal Appeals Court
Litvak was the first of more than a half-dozen traders to be charged by U.S. authorities with fraud for lying to clients. His arrest in January 2013 put traders on notice that they could face criminal prosecution for making misrepresentations to customers while negotiating trades, sending shock waves throughout Wall Street and leading to the resignations and suspensions of dozens of traders as financial firms clamped down on shady sales tactics.
A jury in Hartford last year acquitted three former Nomura Holdings Co. traders of the vast majority of 27 counts against them, while convicting one of conspiracy and not reaching a decision on several others. A retrial is scheduled for July.
Jose Baez, Demos's lawyer, said the verdict and the decision in Litvak's case should put an end to the bond-trading prosecutions.
"Hopefully, today's double victory not only for David but for Jesse will send a clear message that we're not accepting this and juries aren't accepting this," Baez said after court.
The case is U.S. v. Demos, 16-cr-00220, U.S. District Court, District of Connecticut (New Haven)